The February Health Beat Edition includes an article by Brittany Feagans, Legacy Willow Bend offers unique programs, therapy for dementia" from HomePlano Star Courier. It describes the unique programs including music therapy, aroma therapy, art therapy, etc that have been implemented by the staff membersto ensure that the seniors are engaged and utilizing all of their senses to experience life around them. Full article may be viewed at:
http://starlocalmedia.com/…/article_058b8938-9c3a-11e4-a80f…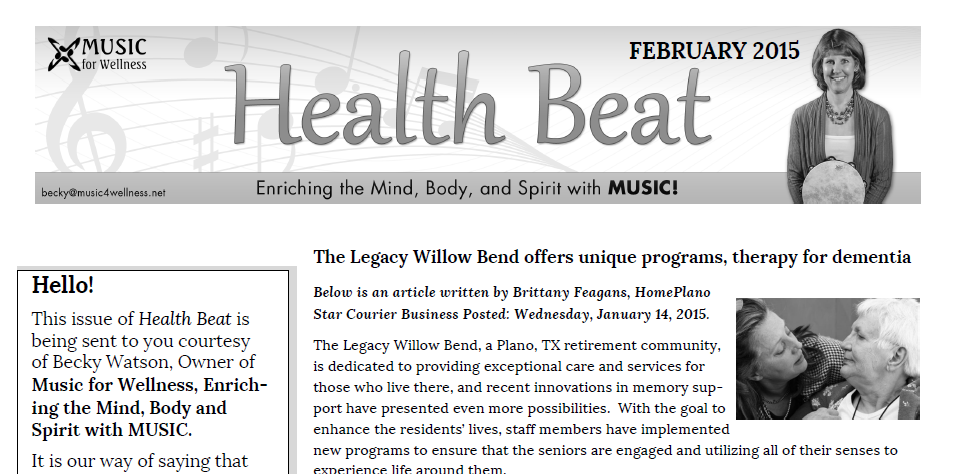 I'll be attending a National Summit: Advancing Research in the Arts for Health and Well-being across the Military Continuum on February 27 in Bethesda, MD at the National Institutes of Health. This is an "by invitation only" event, I'm honored to be on this distinguished list of health care creative arts providers!
This newsletter also includes great information on "Living Healthy to Prevent Cancer" and Nutritious Snack Ideas and dates of interest for February. Photos are from thriving seniors and clients of the Music for Wellness programs from the Williamsburg and Virginia Beach, VA area.
BREAKING NEWS: St. Timothy Lutheran Church receives a Community Impact Council Grant to provide socialization for individuals and care partners in the Early Alzheimer's Support Education (EASE) program through the Alzheimer's Association. This grant will fund customized Music Therapy Community Based programs provided by Music for Wellness, LLC to enhance socialization and memory making opportunities the St. Timothy support group. Specific theme programs include: Rhythmic Post Mardi Gras Party, Memorial/Summer Fun in rhythm, Celebrating Birthdays with a Beat, Gratitude/Thanksgiving Intentions through drumming, and Cultural Holiday Celebrations from around the World.https://docs.google.com/…/d/0BzAKQ7MzkX1nV1BjcjVmTTJ6U…/edit
Our digital Music CD is in production and should be available during this month. It is CD titled: "Vibrations from the Heart" special Angel Harp music for meditation and to reduce your stress and anxiety. If you would like to pre-order a CD, send me an email to: info@music4wellness.net and I'll give you an incredible pre-order discount price!