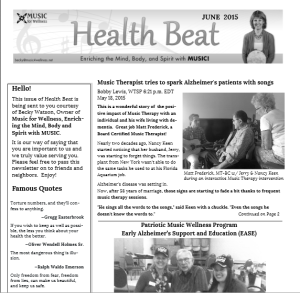 This Health Beat Edition includes an article featuring a Board Certified Music Therapist Matt Frederick MT-BC, written by:  Story by Bobby Lewis, WTSP9:44 p.m. EDT May 18, 2015.  This article titled "Music Therapist tries to spark Alzheimer's patients with songs" shares the positive impact and improved quality of life from singing songs and music.
The full article may be viewed at: http://www.wtsp.com/story/news/health/2015/05/18/therapists-try-to-spark-alzheimers-patients-with-songs/27540607/
I an also privileged to be a guest presenter on a FREE Webinar on Thurs, June 4th at 10:00 am Eastern.  This is a GREAT FREE webinar on drumming with older adults with answers to the following questions:
– What are the "must have instruments for a drumm circle
-How to structure session for optimal engagement while allowing for needed rest breaks
-How to turn challenging behaviors into group assets
-How to safely clean equipment
You are invited to see it here: 
http://sessioncafe.com/drum-web-2
 .
This newsletter also includes great information on "Father's Day Trivia," "Eating Healthy,""Why Naps Matter, and dates of interest for June. Photos are from Music Wellness programs at Early Alzheimer's Support and Education (EASE) and Sentara Hospice Butterfly Release Picnic.
Thanks for your support … we wish you a wonderful week, enjoy the spring/summer baseball season and Happy Father Day's Day to the dads!