Performance Date:  May 26, 2017, 2 pm
Event:  Music Therapy Informed Community Engagement Concert, Generations United
Location:  Keswick Place, Warwick Forest, Newport News, VA
Board Certified Music Therapist:   Becky Watson, MBA, MT-BC, Consultant
VSO Director of Orchestra Activities:  Dr. Christina Havens
VSO Quartet:  Amanda Gates (violin); Lesa McCoy Bishop (violin); Jocelyn Smith (viola), Rebecca Gilmore Phillips (cello)
Volunteer:  Gwen Carr (Music Therapy Radford University)
Generations in Unison Program:  Generations in Unison is an interactive music therapy-informed program which provides a vital resource to facilities which serve aging populations and to adults living with dementia. In 2017, a professional VSO string quartet will visit the Warwick Forest Retirement Community in Newport News, performing therapeutic music while residents participate in activities which strengthen fine motors skills, stimulate memory, increase blood flow, elevate mood, exercise cognitive functions and provide beneficial audial and visual stimulation. Students from VSO partner schools are encouraged to volunteer during these sessions, passing out and collecting instruments, encouraging and facilitating participation, and playing alongside the VSO musicians. By bringing generations together, the VSO hopes this program will help enrich and strengthen the Hampton Roads community.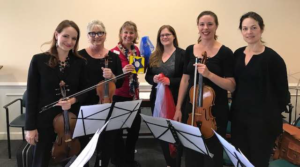 First Concert at Warwick Forest Retirement Community:  On Friday, May 26, 2017 was the first performance for the Generations in Unison, a new interactive, music therapy-informed program at Warwick Forest Retirement Community in Newport News. Generations in Unison aims to address the needs of memory care and assisted living residents in partnering facilities throughout Hampton Roads. Thank you to the City of Newport News Cultural Attractions Fund for providing the grant that has made this pilot program possible!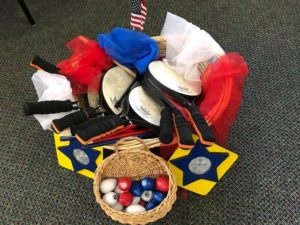 Program Theme (Memorial Day):  "Americana" w/ Military Service Medley, patriotic songs (45 minutes in length)
Musical Instruments for participants:    Rhythm Sticks (6 in), Egg Shakers (red, white and blue), Sound Shape Drums w/ mallets, Paddle Drums, and scarves (red, white and blue)
Participants: approximately 35-40 (several were sitting in the common area), Residents in Independent Living, Assisted Living, Evergreen (with care partners), friends, family, staff
Participant Evaluations:  received 27 completed evaluations
(5 questions, ranging from +5 to -5, total score 25 = highest)
Average score = 23    ( 15 evals total score =  25, 5 evals total score = 24, 2 evals total score =    22, 2 evals total score = 21, 1 evals total score  = 17, 2 evals total score  = 15)
Participant Comments: 
– I was here with my mom and love the interactions and dynamic approach to the music, My only comment would be that the residents seemed to have a harder time singing and waving the scarves at the same time.
– I can't thank you enough. Truly sublime performance.  Deep understanding of music.  Intelligent and fresh arrangements of familiar pieces, audience enthralled!
– Music and song, always a positive influence on me and my life. Thank you!
– Very good, friendly, relaxing and kind, God Bless You All!
– Very relaxing and beautifully played
– Too Short, wanted more
– Wonderful, wanted to hear more songs
– It was too short but delightful
– Too Short!!
– You warmed our hearts with joy!
– Fantastic program beautiful music, superb performance, Thank you all!!
– Very nice, Thank You.. Enjoyed it very much
– Great, I enjoyed it
– Please come back soon!
– Wonderful, Come back again!
– Wonderful, Relaxation!!
– Outstanding
– Wonderful program
– Wonderful
Staff Comments:  Great !  Residents truly loved it!  Would be great if it was a bit longer.  Residents wanted more music!  Residents are excited for you all to return!  Music selection ws great for our adults and it fit them great!!  They know all of the words!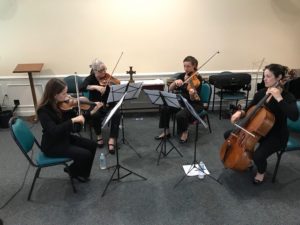 Musician's Comments:   average score = 21
– Great community bonding experience, patriotic
Lessons learned:
– Desire for a longer program (60 minutes with several encore options)
– Great Theme and Song Selection, add more singing only selections
– Have 3 trained volunteers to assist with distribution of music instruments
– Plan for 50-60 instruments, more pens for surveys next time
– Talk more slowly when narrator, if still distributing instruments, narrator do "small talk" or light/short trivia until instruments are distributed
– Residents engaged in all instrument playing, played additional songs with drums
– Singing while waving scarves may have been too complex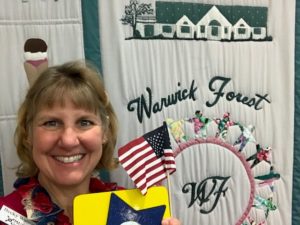 Recommendations for next concert:
– American Songbook, use more singing only songs
Thank you Christy and members of the VSO quartet for making this a great first event.  Thanks to the Warwick Forest Staff for allowing us to serve your residents with engaging Generations in Unison event!  Thank you Gwen for assisting and helping me carry all of the instruments!