5 Star Review for Music for Wellness, LLC by Jane Gresham of Norfolk, VA.
---
 Local Alzheimer's residents and their families benefit from effects of "drumming" up health
Written by Christine DeBastiani
Sales & Marketing Manager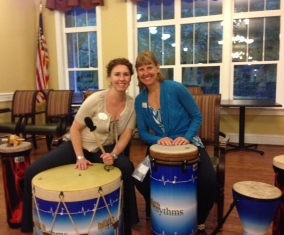 Clare Bridge Virginia Beach Estates
937 Diamond Springs Road
Virginia Beach, VA 23455
cdebastiani@brookdaleliving.com
My word is "experimental." I figured since it was summertime, our monthly caregiver support group could stand an injection of something different – something that not only involved our families, but also our residents who would, inevitably, wonder what was going on once they heard the tribal sounds emanating from the dining room after dinner anyway. The caregiving of a loved one can be all about stress – Am I doing this right? What's happening to my mom? How horrible I must be to feel this way. Am I being selfish? Why am I so tired and angry? This is not the life I thought I would be having! Stress builds up and because we tend to continue to run around like crazy, we never give ourselves the opportunity to relax, to stop for even just a minute and let ourselves be free, to stop judging ourselves and venture out of our little silos of despair – So we had a tall order of "stuff" to deal with on that Tuesday evening.
It was simple enough – a room filled with all different types of drums and percussion instruments. "Let's drum your name! What does your name sound like?" Becky said, "Now let's all make the sound of Virginia's name." And we did… Boom, boom for Harry, for Patti, for Wesley, for Reggie, and a boom for Joe too. Everyone got their own special moment in the limelight – where all attention and focus was just on them. We drummed all together, we drummed to our own rhythm, we shared turns, we helped each other, we laughed…we made a lot of noise. To be quite honest, I was a bit worried how my caregiver families would take this meeting. I was worried about being judged by them – they came here to learn about Alzheimer's and dementia and to get some answers – to find some relief. My job was to deliver just that and I better make their effort to come out worth it or they may not come back. I watched everyone intently – I reinforced what Becky was asking and supported residents who found it challenging to follow even the simplest of instructions.
And guess what? Simple drumming put everyone on the same playing field, I saw residents who no longer use words, tapping a tambourine to the beat of their name. I saw a caregiver reach out for a wooden frog and run the stick down it's back making the guttural sound of a southern bull frog. She later told me that it was the best time she had had in a long time – her word was "awesome." As she left that evening, she told me that she had always like to paint and used to take lessons. I asked what had stopped her – but I already knew the answer. Caregiving, stress, life. I challenged her to sign up for an art class at a local museum and give it a go. She smiled, and walked out lighter than the breeze that swept past our front door. The real test to pass was finding out how a husband and wife caregiving team (who by the way were retired professional musicians in the VA Symphony) felt about the evening. Patti's word was "freeing." Maybe all those years following music written by geniuses, while beautiful, was also a bit confining? Maybe not, but she certainly was banging on her drum for an hour with a smile from ear to ear and new knowledge into the power of music therapy.
In retrospect, I can safely say it was a successful meeting. Everyone got to express themselves and also be part of something bigger than themselves. Not one person will forget Joe's commandeering of the largest drum in the room and his expressions of pure excitement and joy as he beat repeatedly a resounding boom so deep and clear it was like his emotions were coming right through the vibrations. I asked Joe today about Tuesday evening and his face lit up with the biggest smile I have seen in a while. He remembered the feeling…and that's what we must never forget.
To learn more about Clare Bridge Virginia Beach Estates Memory Care or Music for Wellness, please contact ChristineDeBastiani at cdebastiani@brookdaleliving.com or Becky Watson at becky@music4welness.net
---