Music for Wellness, LLC – Research Grant funds Intergenerational Programs including Community Music Therapy Sessions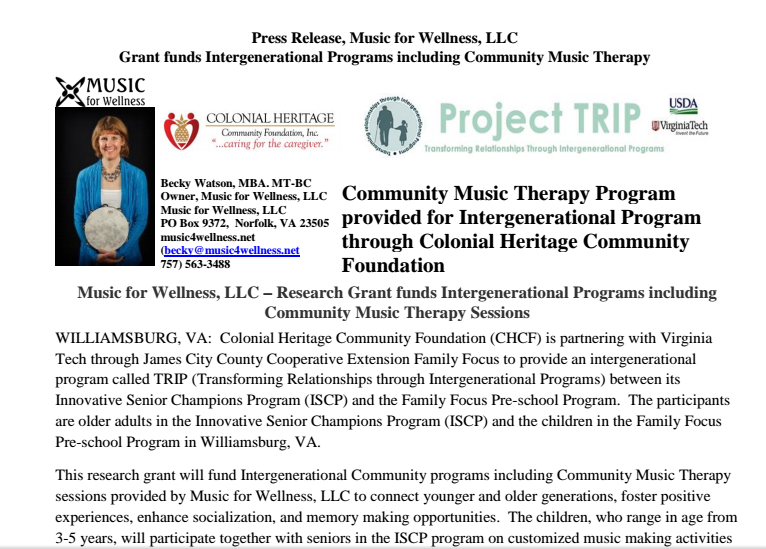 https://docs.google.com/file/d/0BzAKQ7MzkX1nYTBsVjNUSFpGUUE/edit
WILLIAMSBURG, VA: Colonial Heritage Community Foundation (CHCF) is partnering with Virginia Tech through James City County Cooperative Extension Family Focus to provide an intergenerational program called TRIP (Transforming Relationships through Intergenerational Programs) between its Innovative Senior Champions Program (ISCP) and the Family Focus Pre-school Program. The participants are older adults in the Innovative Senior Champions Program (ISCP) and the children in the Family Focus Pre-school Program in Williamsburg, VA.
This research grant will fund Intergenerational Community programs including Community Music Therapy sessions provided by Music for Wellness, LLC to connect younger and older generations, foster positive experiences, enhance socialization, and memory making opportunities. The children, who range in age from 3-5 years, will participate together with seniors in the ISCP program on customized music making activities including moving, dancing, singing, group empowerment drumming, instrument making, song sharing, song writing, etc. Research shows when successfully delivered, intergenerational programs result in positive health effects, child learning and appropriate socialization for both young and old.
For more information about being a participant or volunteer in the program, please contact Dick Boyden or Joan Bender at 757-345-6974 or email rboyden@chcfonline.org or joanbender1@cox.net or visit the Colonial Heritage Community Foundation website at www.chcfonline.org. American Music Therapy Association, Inc.